Melanesian Federation
Jump to navigation
Jump to search
---
Capital
:
Suva
---
Government type
:
Democratic
---
Faction
:
Neutral
The
 Melanesian Federation is a releasable country ruled by the

 United Kingdom at the start of the game. It consists of all British colonies in the Pacific Islands.
Historical background
National focus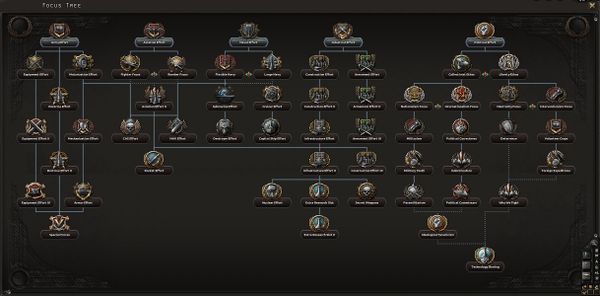 Main article: Generic national focus tree

The
 Melanesian Federation, lacking a unique national focus tree, uses the generic national focus tree instead.
The generic focus tree has 5 main branches:
Army Effort gives army experience and research bonuses to army research.
Aviation Effort gives air experience, builds air bases, and research bonuses to air research.
Naval Effort gives navy experience, builds naval dockyards, and research bonuses to navy research.
Industrial Effort builds civilian and military factories (usually even if building slots are already full)and grants extra research slots.
Political Effort gives the country choices on which political path they will take.
Politics
The
 Melanesian Federation, if released as an independent state, is

Democratic. It's ideology may differ if the nation it is released from follows a different ideology.
| Political party | Ideology | Popularity | Party leader | Country name | Is ruling? |
| --- | --- | --- | --- | --- | --- |
| Democratic | Democratic | 50% | Generic | Melanesian Federation | Yes |
| Communist | Communist | 6% | Generic | Pacific Worker State | No |
| Fascist | Fascist | 6% | Generic | Empire of the Seas | No |
| Non-Aligned | Non-Aligned | 38% | Generic | Fiji | No |
Technologies
When released, the
 Melanesian Federation starts with two research slots.
Army technology
Naval technology
Air technology
Electronics & Industry
Doctrines
Form Polynesia
Polynesia is a country that can be formed by any one of the Pacific island nations that are of Austronesian descent, allowing the peoples of the Pacific Ocean to be united under one power. In 1936, the required states are owned by

 New Zealand, The

 United States,

 Japan and

 France. Somewhat uniquely, Polynesia can be formed if the forming nation is a puppet (dominion-level), meaning that it is possible for a nation to puppet one of the eligible nations and let it form Polynesia by giving it the requisite territories.
Out of all the eligible nations,

 New Zealand has by far the best hopes for forming Polynesia, due to it having the highest population and a unique national focus tree (if playing with the Together For Victory DLC).
| | |
| --- | --- |
| | This is a community maintained wiki. If you spot a mistake then you are welcome to fix it. |
---
With the islands of Hawai'i, Aotearoa, Tahiti, and Samoa under our control, we may be able to unite all Pacific peoples.
---
Potential Requirements

Allow

Is fully independent or a  dominion
Controls North Island (284)
Controls Hawaii (629)
Controls Caroline Islands (684)
Controls Guam (638)
Controls Tahiti (641)
Controls Saipan (646)
Controls South Island (723)
Controls Samoa (726)

---

Effects

Country will be known as  Polynesia
Gains cores on all Polynesian Islands:

North Island (284)
Taiwan (524)
Hawaii (629)
Johnston Atoll (630)
Midway Island (631)
Wake Island (632)
Marshall Islands (633)
Solomon Islands (634)
New Caledonia (635)
Fiji (636)
Guam (638)
Gilbert Islands (639)
Tahiti (641)
Phoenix Island (642)
Ellice Islands (643)
Iwo Jima (645)
Saipan (646)
Palau (647)
Marcus Island (648)
Caroline Islands (684)
South Island (723)
Nauru (725)
Samoa (726)
Line Islands (727)
Nendo (734)
| | |
| --- | --- |
| | This is a community maintained wiki. If you spot a mistake then you are welcome to fix it. |
---
Potential Requirements

Allow

Is fully independent or a  dominion
Has completed the Focus Maori Volunteers
Not: Has country flag: is_demanding_flag
Any country:

North Island (284)
Hawaii (629)
Johnston Atoll (630)
Midway Island (631)
Wake Island (632)
Marshall Islands (633)
Solomon Islands (634)
New Caledonia (635)
Fiji (636)
Guam (638)
Gilbert Islands (639)
Tahiti (641)
Phoenix Island (642)
Ellice Islands (643)
Iwo Jima (645)
Saipan (646)
Palau (647)
Marcus Island (648)
Caroline Islands (684)
South Island (723)
Nauru (725)
Samoa (726)
Line Islands (727)
Nendo (734)

Not: Has country flag: has_been_asked_for_islands_flag

---

Effects

North Island (284)
Hawaii (629)
Johnston Atoll (630)
Midway Island (631)
Wake Island (632)
Marshall Islands (633)
Solomon Islands (634)
New Caledonia (635)
Fiji (636)
Guam (638)
Gilbert Islands (639)
Tahiti (641)
Phoenix Island (642)
Ellice Islands (643)
Iwo Jima (645)
Saipan (646)
Palau (647)
Marcus Island (648)
Caroline Islands (684)
South Island (723)
Nauru (725)
Samoa (726)
Line Islands (727)
Nendo (734)

Not: Has country flag: has_been_asked_for_islands_flag

Gets event: New Zealand Requests Control of Polynesia
| Ideology | Country name |
| --- | --- |
| Democratic | Pacific Federation |
| Communist | Socialist Union of Oceanic Peoples |
| Fascist | Polynesian Empire |
| Non-Aligned | United Kingdom of Polynesia |
|  Dominion | Dominion of Polynesia |
| | |
| --- | --- |
| Europe | Albania Austria Belgium Bulgaria Czechoslovakia Denmark Estonia Finland France Free France Vichy France German Reich Greece Hungary Ireland Italy Latvia Lithuania Luxembourg Netherlands Norway Poland Portugal Nationalist Spain Republican Spain Kingdom of Romania Slovakia Soviet Union Sweden Switzerland Turkey United Kingdom Yugoslavia |
| | |
| --- | --- |
| North America | Dominion of Canada Costa Rica Cuba Dominican Republic El Salvador Guatemala Haiti Honduras Mexico Nicaragua Panama United States |
| | |
| --- | --- |
| South America | Argentina Bolivia Brazil Chile Colombia Ecuador Paraguay Peru Uruguay Venezuela |
| | |
| --- | --- |
| Asia | Afghanistan Bhutan British Malaya British Raj China Communist China Guangxi Clique Iran Iraq Japan Manchukuo Mengkukuo Mongolia Nepal Oman Philippines Saudi Arabia Shanxi Siam Sinkiang Tannu Tuva Tibet Xibei San Ma Yemen Yunnan |