Tibet
Jump to navigation
Jump to search
---
Capital
:
Lhasa
---
Government type
:
Non-Aligned Despotic
---
Faction
:
Neutral
Tibet is the traditional homeland of the Tibetan people as well as some other ethnic groups such as Monpa, Qiang and Lhoba peoples and is now also inhabited by considerable numbers of Han Chinese and Hui people. Tibet is the highest region on Earth,The highest elevation in Tibet is Mount Everest, earth's highest mountain rising 8,848 m (29,029 ft) above sea level. Tibet borders

 China to the east,

 Bhutan,

 British Raj, and

 Nepal to the south,

 Sinkiang to the north, and

 Xibei San Ma to the northeast.
After the Xinhai Revolution (1911–12) toppled the Qing dynasty and the last Qing troops were escorted out of Tibet, the new Republic of China apologized for the actions of the Qing and offered to restore the Dalai Lama's title. The Dalai Lama refused any Chinese title and declared himself ruler of an independent Tibet. In 1913, Tibet and Mongolia concluded a treaty of mutual recognition. For the next 36 years, the 13th Dalai Lama and the regents who succeeded him governed Tibet. During this time, Tibet fought Chinese warlords for control of the ethnically Tibetan areas in Xikang and Qinghai (parts of Kham and Amdo) along the upper reaches of the Yangtze River. In 1914 the Tibetan government signed the Simla Accord with Britain, ceding the South Tibet region to British India. The Chinese government denounced the agreement as illegal.
When in the 1930s and 1940s the regents displayed negligence in affairs, the Kuomintang Government of the Republic of China took advantage of this to expand its reach into the territory.
Emerging with control over most of mainland China after the Chinese Civil War, the People's Republic of China incorporated Tibet in 1950 and negotiated the Seventeen Point Agreement with the newly enthroned 14th Dalai Lama's government, affirming the People's Republic of China's sovereignty but granting the area autonomy. Subsequently, on his journey into exile, the 14th Dalai Lama completely repudiated the agreement, which he has repeated on many occasions.
Tibet starts with no National Spirits.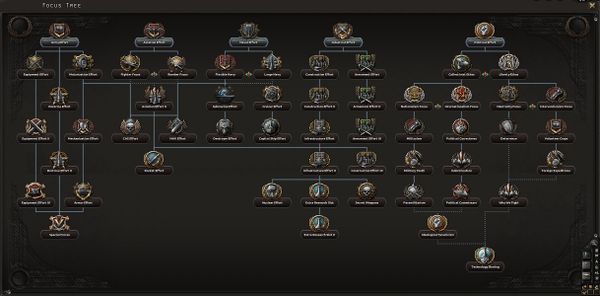 Tibet is counted as a minor nation and utilizes the generic national focus tree.
The generic focus tree has 5 main branches:
Army Effort branch

Gives army experience and research bonuses to army research.

Aviation Effort branch

Gives air experience, builds air bases, and research bonuses to air research.

Naval Effort branch

Gives navy experience, builds naval dockyards, and research bonuses to navy research.

Industrial Effort branch

Builds civilian and military factories (usually even if building slots are already full), infrastructure and grants extra research slots.

Political Effort branch

Gives the country choices on which political path they will take.
As a Non-Aligned country, Tibet has a positive relationship with other Non-Aligned countries (+20) and a slight negative relationship with everyone else (-10). Tibet Starts with cores on china. Tibet begins without any alliances at the start of 1936.

Retting Rinpoche
Can force government of another country to adopt the same ideology.
Can puppet a country.
Generate war goal tension limit:

+50%

Lend-lease tension limit:

+40%

Send volunteers tension limit:

+40%

Guarantee tension limit:

+40%

Join faction tension limit:

+40%

Ideology drift defense:

-30%
| Party Name | Party Ideology | Party Leader | Popularity | Country Name |
| --- | --- | --- | --- | --- |
| Democratic | Democratic | Generic | 0% | Republic of Tibet |
| Communist | Communist | Generic | 0% | Monastic Commune of Tibet |
| Fascist | Fascist | Generic | 0% | Tibetan Empire |
| Retting Rinpoche | Non-Aligned | Jamphel Yeshe Gyaltsen | 100% | Tibet |
The nation starts with the following laws:
| | |
| --- | --- |
| | This is a community maintained wiki. If you spot a mistake then you are welcome to fix it. |
Conscription Law
Economy Law
Trade Law
Volunteer Only

---

1.5% Recruitable population

Civilian Economy

---

35% Consumer Goods factories
–30% Factory construction speed
+30% Factory (type) conversion cost
–40% Fuel gain per oil
–25% Fuel capacity

Export Focus

---

50% Resources to market
+5% Research speed
+10% Factory/Dockyard output
+10% Construction speed
+20% Civilian intelligence to others
+10% Navy intelligence to others
| Advisor | Type | Effect | Cost |
| --- | --- | --- | --- |
| Taktra Rinpoche | Backroom Backstabber | Political Power Gain +5.00,ideological drift defence +15.0 | 150 |
| Reting Rinpoche | Compassionate Gentleman | +15.00% Monthly opinion , Foreign subversive activities efficiency: 30.00 | 150 |
| Gyaltsen Tenzin Namdak | Democratic Reformer | Daily Democracy Support: +0.1, gets event "Move towards Democracy" | 150 |
| Jigme Taring | War Industrialist | +10% Military Factory construction speed,+10% Dockyard construction speed | 150 |
| Jampa Namdrol | Communist Revolutionary | Daily Communism Support: +0.1, gets event "Communism on the Rise" | 150 |
| Yonten Rinpoche | Fascist Demagogue | Daily Fascism Support: +0.1, gets event "Fascism on the Rise" | 150 |
Tibet starts in 1936 with two research slots. It can gain two further slots from its National focuses - Extra Research Slot and Extra Research Slot II.
Tibet begins with the following researched in 1936 start :
Tibet starts with the following buildings :
| 1 Military Factories | 0 Naval Dockyard | 2 Civilian Factories |
| --- | --- | --- |
As well as 1 free slots
Tibet starts with the following resources :
| | | | | | |
| --- | --- | --- | --- | --- | --- |
| Oil | Rubber | Steel | Aluminium | Tungsten | Chromium |
| 0 | 0 | 0 | 0 | 2 | 0 |
| 2Infantry Divisions | 0Cavalry Division | 0Mountaineer Division | 0Light Tank Divisions |
| --- | --- | --- | --- |
Total: 2 Divisions
No

Ships
Total: 0 Ships
No

Fighters
Total: 0 Planes
| | |
| --- | --- |
| Europe | Albania Austria Belgium Bulgaria Czechoslovakia Denmark Estonia Finland France Free France Vichy France German Reich Kingdom of Greece Kingdom of Hungary Ireland Italy Latvia Lithuania Luxembourg Netherlands Norway Poland Portugal Nationalist Spain Republican Spain Romania Slovakia Soviet Union Sweden Switzerland Turkey Republic of Ukraine United Kingdom Yugoslavia |
| | |
| --- | --- |
| North America | Dominion of Canada Costa Rica Cuba Dominican Republic El Salvador Guatemala Haiti Honduras Mexico Nicaragua Panama United States |
| | |
| --- | --- |
| South America | Argentina Bolivia Brazil Chile Colombia Ecuador Paraguay Peru Uruguay Venezuela |
| | |
| --- | --- |
| Asia | Afghanistan Bhutan British Malaya British Raj China Communist China Dutch East Indies Guangxi Clique Iran Iraq Japan Manchukuo Mengkukuo Mongolia Nepal Oman Philippines Saudi Arabia Shanxi Siam Sinkiang Tannu Tuva Tibet Xibei San Ma Yemen Yunnan |
| | |
| --- | --- |
| Africa | Angola Sultanate of Aussa Botswana Kingdom of Egypt Ethiopia Liberia South Africa |