Naval missions
Jump to navigation
Jump to search
Naval missions can be assigned to task forces to govern their behavior. Each mission has a corresponding hotkey.
Although missions can be assigned at the task force level, the operating area for the mission is defined at the fleet level by assigning regions.
When task force(s) are performing a mission in their fleet's assigned regions, an icon will be visible in the centre of each of these strategic regions. The icon represents the mission being performed. Below the icon is a number, which represents the number of task forces performing the mission in this region. If the cursor is placed over this number, a tooltip will appear which provides further information about the mission.
Patrol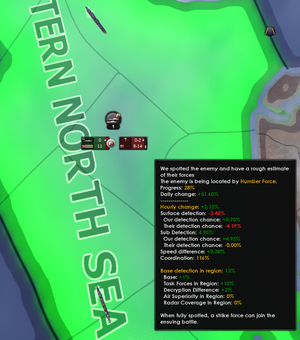 A task force assigned to the patrol mission will search for enemy ships. A single task force can only patrol a single strategic region at once, so multiple task forces are required to patrol multiple regions.
When enemy ship(s) have been found, the patrolling task force will gradually gather information about the enemy force. This process is called spotting, and its progress is measured as a percentage which is visible in a tooltip. When the enemy force is 100% spotted, it becomes possible to engage them in battle.
Spotting
The spotting progress starts at base spotting chance and increases by hourly change until it reaches 100%. If the hourly change would be zero or negative, the task force can't spot that enemy. The patrol can only start spotting enemy submarine forces with a probability of each hour. A patrol can only spot one enemy task force at a time and vice versa.
Engaging the enemy
After an enemy force is fully spotted, the patrolling task force may choose to engage the enemy immediately, depending upon their assigned engagement rule. Any strike forces assigned to the region may also choose to leave port and engage the enemy, depending upon their own engagement rules.
If the patrolling task force is set to 'Never engage', it will avoid battle until the summoned strike force arrives, and it will begin disengaging immediately after the battle starts.
Strike force
A strike force will intercept enemy forces in the fleet's operational area after they have been fully spotted by patrol task forces. The rest of the time they stay in port to conserve fuel which makes this mission suitable for large battle groups.
Convoy raiding
This mission
assigns a task force to look for enemy convoys in the fleet's operational area. The raiding force needs to spot the convoys before attacking them. Each raiding task force can only efficiently cover 1.5 strategic regions. If a fleet does not have enough raiding task forces for the area it covers, their efficiency will be reduced.
Convoy escort
| | |
| --- | --- |
| | This is a community maintained wiki. If you spot a mistake then you are welcome to fix it. |
This mission
lets a fleet protect friendly convoys in the assigned patrol areas, allowing them to concentrate on enemy submarines and commerce raiders that dare to attack your shipping. The mission is primarily a counter to convoy raiding. While using this mission type the player can still be engaged by other fleets however a fleet assigned to convoy escort will tend to avoid combat unless specifically protecting friendly convoy ships or identified and engaged by an enemy fleet on 'patrol'. This mission is particularly important for covering invasions and troop transfers, as fleets assigned to patrol will not necessarily come to the aid of a convoy under enemy attack.
Note: Escort efficiency is a value that indicates how quickly a fleet on a convoy escort mission can gather and help in the defense of a convoy once an enemy raider has been detected. This counters an enemy's raiding coordination. The higher the escort efficiency, the more screening ships (destroyers and light cruisers) are involved in protecting convoys. An increased escort efficiency score also helps prevent troop transports being sunk.
Minelaying
| | |
| --- | --- |
| | This is a community maintained wiki. If you spot a mistake then you are welcome to fix it. |
Ships with minelaying equipment can be assigned to minelaying missions during wartime. They will continue adding mines to their assigned strategic regions until these regions have been fully saturated with mines. Mines will be laid in all assigned regions at the same time, and the minelaying rate will be slower for each region added.
Effects of mines
The following effects apply to each mined strategic region, scaled according to the quantity of mines:
Increased naval supremacy for the owner of the mines.
Increased chance of accidents and decreased speed for enemy ships. (These penalties do not apply to friendly ships.)
Minesweeping
| | |
| --- | --- |
| | This is a community maintained wiki. If you spot a mistake then you are welcome to fix it. |
When equipped with a minesweeping module, destroyers or cruisers can be assigned to minesweeping missions during wartime. These ships will continue removing mines from their assigned strategic regions until they are fully clear of mines.
Task forces assigned to the naval invasion support mission will escort convoys which are ferrying friendly troops to perform a naval invasion. Once these convoys have arrived at their destination safely, the assigned task forces will hold position adjacent to the landing site to provide support via shore bombardment.
Hold
Task forces can be ordered to hold in two different ways:
Clicking the hold button cancels the current mission and moves the task force to the closest friendly port.
Clicking the hold button while holding down the 'Ctrl' button cancels the current mission and makes the task force stay in its current province. A task force on hold doesn't consume fuel. When positioned on a sea province, it can block connections (visible as broken red lines across the water) between land provinces, to prevent enemy land units from moving between them.
Shore bombardment
| | |
| --- | --- |
| | This is a community maintained wiki. If you spot a mistake then you are welcome to fix it. |
If surface ships are on hold in a province adjacent to a land battle involving enemy divisions, the ships will automatically perform

shore bombardment to reduce the enemy's attack and defense.
The magnitude of this effect is determined by the firepower of the ships involved: each point of heavy gun damage contributes -0.1% to enemy attack and defense, while each point of light gun damage contributes -0.05%. Total reduction from shore bombardment is capped at -25%.